Over 20 Years of Expertise in IT Security
IT Security and Compliance. We take it to the max.
Dr. Stephen Fedtke

Enterprise-IT-Security.com
Our company operates worldwide, and is proud to look back on over 20 years of experience in the fields of IT security, IT auditing, IT compliance and IT forensics. We are security experts for mainframe and client-server platforms as well as acknowledged pioneers in the security and quality monitoring of critical IT infrastructures. Only a few countries can boast of extreme or extraordinary information law and requirements, even exceeding SOX and DOD. Serving these highly demanding markets is our speciality.
Our satisfied clients include government agencies, the world's leading financial institutions, insurance companies, IT service providers and other Fortune 500 companies. We provide effective and efficient compliance and security solutions that work in harmony for perfect results.
Our job is only done when you are satisfied. Every tool of the SF product line is developed exclusively by us and delivered with the "plug and play" principle and first class support. In constantly developing and implementing highly innovative and reliable technologies, we provide protection capabilities that are unique worldwide. Therefore, we are partners with the world's largest companies and institutions in successfully achieving and maintaining extremely secure environments.
Our valued customers can attest to the effectiveness of our unique technologies and services and value added-based pricing. Experience for yourself how our proven MAX approach improves security and reduces costs.
Protecting Critical Infrastructures
For more than 20 years we have helped our customers safeguard mission-critical data and applications. Enterprise-IT-Security. com proudly protects the critical infrastructures of nations, including Financial, Insurance, Healthcare, Education, Communications, Utilities, Transportation, and Government Agencies.
Our business is more than acting as a tool vendor – we are an innovative solution provider.
All SF solutions have been invented and developed in-house by our great team.
GERMAN INFORMATICS SOCIETY (GI)
About the GI
• The GI, the German Informatics Society, is a non-profit association of highly dedicated computer science professionals in the German-speaking world.
• The GI offers a unique professional network for sharing knowledge and experience about
all current and relevant topics in computer science.
• WE ARE INFORMATICS!
• With about 20,000 personal members, we are the largest neutral professional association for computer science in the German-speaking world.
• Who are the members of the GI?
• Computer science professionals from research and academia
• IT professionals from public administration, business, and industry
• Educators teaching computer science in schools
• Apprentices and students aiming for a profession in IT
SwissICT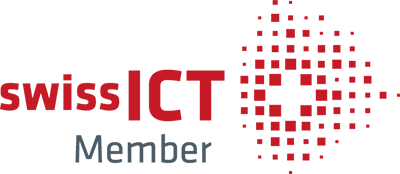 About SwissICT
• With over 2500 members, swissICT is the largest professional association in the industry and is the only association that connects ICT providers, users and specialists in Switzerland. The association cares about the image of the Swiss ICT industry, advocates good framework conditions and promotes exchange and the specialist know-how of its members.
• Largest Swiss network of ICT specialists. Hundreds of experts are involved in the swissICT specialist groups. The largest Swiss ICT network drives current topics, for example sourcing & cloud, open source, innovation, lean, agile & scrum, Industry 4.0 and e-health.
Join our team. It is a long established fact that a reader will be distracted by the readable content of a page when looking at its layout. 
Diploma Doctoral Thesis
Thematic Core:
"Real-time monitoring in technology and business administration for risk assessment, using intelligent user interfaces and methods."
Concretely

:
We are interested in the use and the implementation of promising methods in the fields of:
Artificial Intelligence
Data Mining
Statistics
Risk Management
Score Cards
Sensors
Biometrics
Bio-Informatics
Cybernetics
Automation
Business Administration (e.g. ratio systems)
Standard Software
How about proposing your topic/your idea to us, so we can discuss it together? We can surely agree on a topic which could become the core of a successful diploma/doctoral thesis of yours. 
Intended platform:
.NET (C, C#, VB), Perl, SQL, DB2, MySQL, MSSQL, etc.
Length of time:
2-6 months for the diploma thesis, 1-2 years for the doctoral thesis
Requirements:
you should
be studying, or have studied computer science, physics or mathematics
be highly motivated
be creative in your thinking
be able to work independently
have solid basic knowledge in software engineering (either in the traditional sense or i object-oriented)
Please forward your application to:
joboffer@enterprise-it-security.com
copy the address
The subject of your mail should be:
"Application – Diploma Thesis" or "Application – Doctoral Thesis".
Authors
If you have the abilities, the knowledge, practical experience and enough time to write a book about our interesting, up-to-date technical or business administration topic, we will gladly discuss future book projects and publications with our renowned partner www.springer.com 
Please submit your suggestions to: joboffer@enterprise-it-security.com
copy the address
The subject of your mail should be: "suggestion – book project"
If you have the abilities, the knowledge, practical experience and enough time to write a book about our interesting, up-to-date technical or business administration topic, we will gladly discuss future book projects and publications with our renowned partner www.springer.com 
Please submit your suggestions to: joboffer@enterprise-it-security.com
The subject of your mail should be: "suggestion – book project"
Worldwide toll-free phone number
+800 - 37 333 853
or simply dial:
+800 - DRFEDTKE
Alternatively:
+41 (0)41 710 7444
(+ represents the prefix for international calls; in most countries it is 00, and you have to dial 00800-37333853; in the U.S. it corresponds to 011, and you have to dial 011-800-37333853)
Find Us
Headquarters
Seestrasse 3a, 6300 Zug, Switzerland
Visitors & Training
Dammstrasse 19, 6301 Zug, Switzerland
Social Media